Objective
After reading this section, you will learn how to install and use the Youreka Dashboard Insights Extension Pack.
Before you get started
These articles might be helpful before you read further:
Extension Packs are solutions that help accelerate the Youreka implementation process. This extension pack includes a collection of four Dashboards that helps analyze powerful insights from Youreka form, question and template data. This data can be used to reveal the most popular templates, trended usage over time, identify open forms after template deactivation and much more.
Here's a quick preview: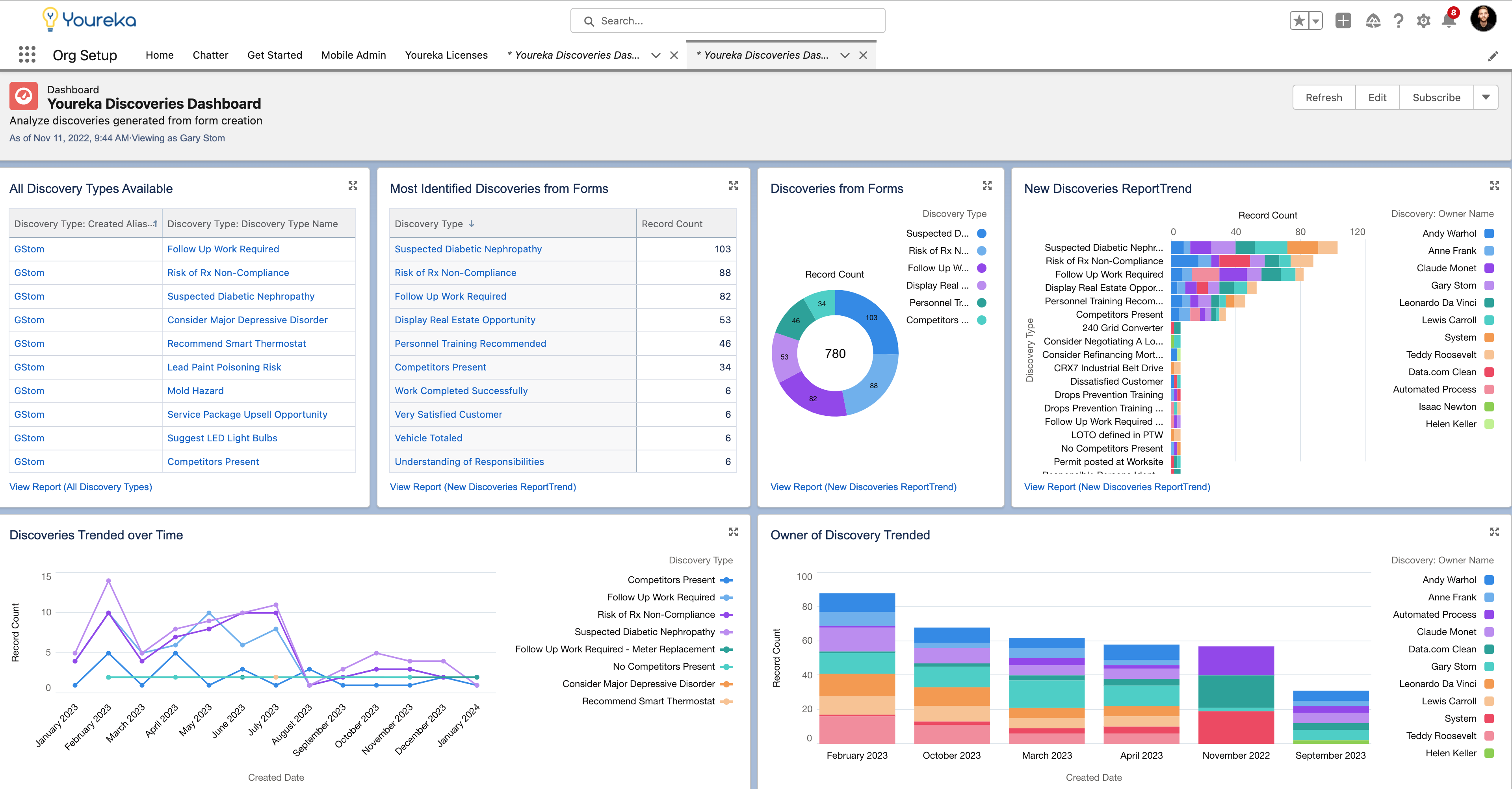 What is in the Package?
4 Dashboards
1 custom field on the Form object
1 Report Type
Installing the Package
*Requirements: Be sure to have the most recent Youreka app installed from the AppExchange*
Installing this package is the same process as installing any other package within your Salesforce org. Here is an example support article on the installation process. The Extension Pack can be installed in a production or sandbox environment. Here are the installation links:
Production: https://login.salesforce.com/packaging/installPackage.apexp?p0=04t8X000000MmIK
Sandbox: https://test.salesforce.com/packaging/installPackage.apexp?p0=04t8X000000MmIK

Please install for all profiles or specific profiles who will be viewing dashboards.
Explore
After installation, you are ready to review the dashboards by clicking the Dashboards tab in Salesforce.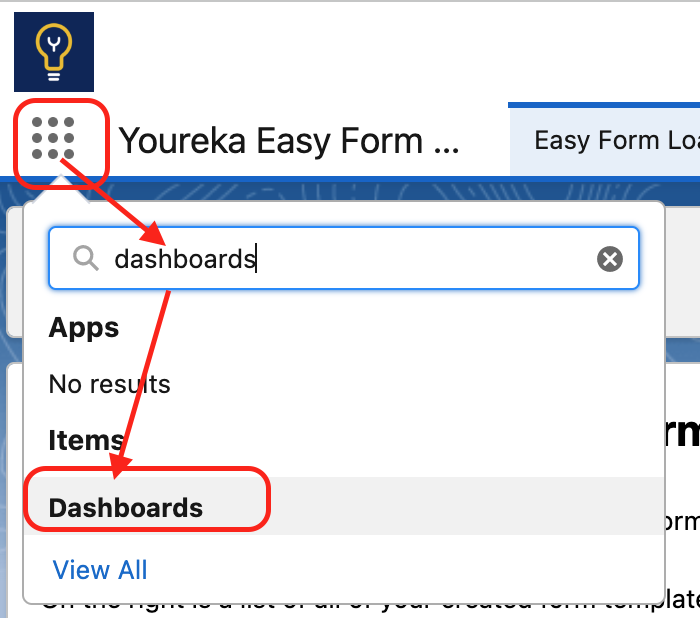 Then explore any of the four dashboards: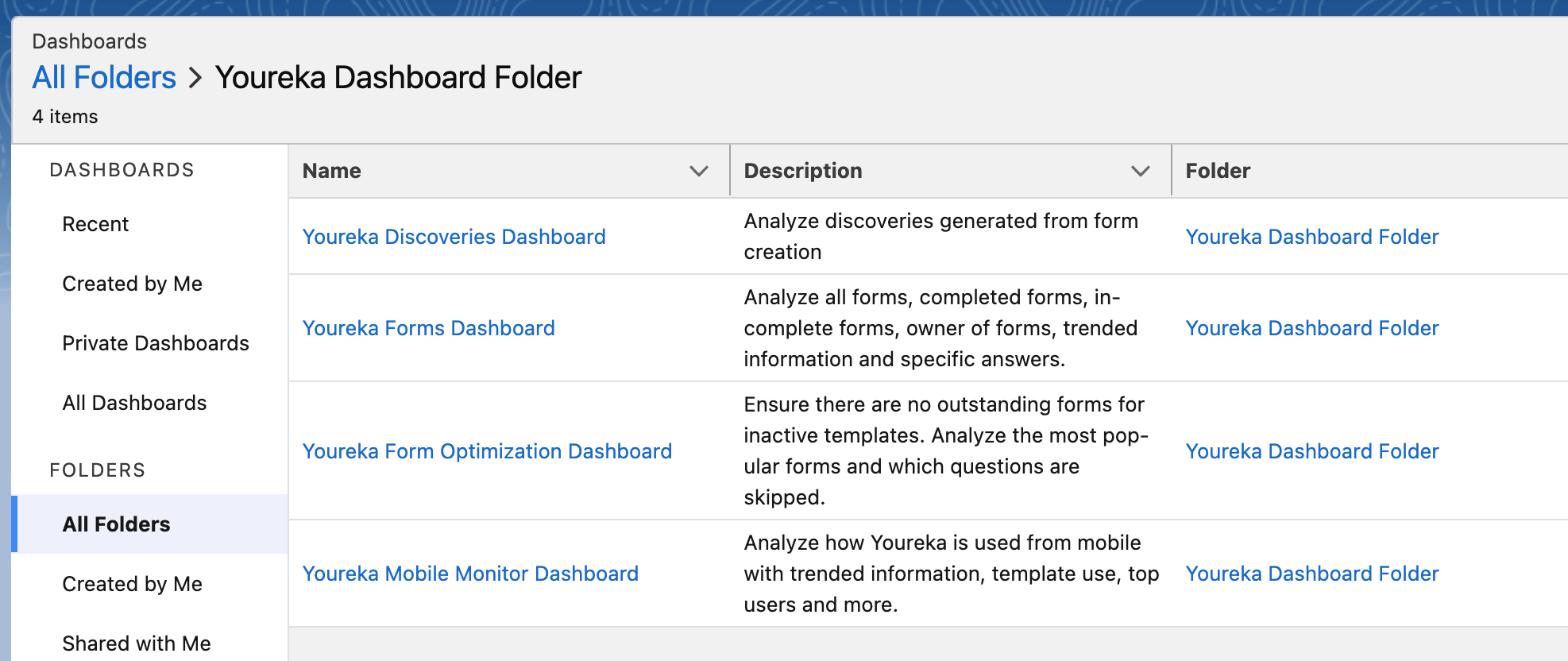 Below is a quick synopsis and preview of each Dashboard:
Youreka Discoveries Dashboard:
Are you using discoveries? Then this dashboard is very helpful to see actionable insights from all of your collected form data. They help surface which assets have issues, followup appointments needed, necessary training, upsell opportunities and much more.
If you are not familiar with discoveries, we highly encourage this valuable feature and here is a starting point.
This dashboard shows all discoveries available, the most discoveries surfaced, who is generating them, when and more: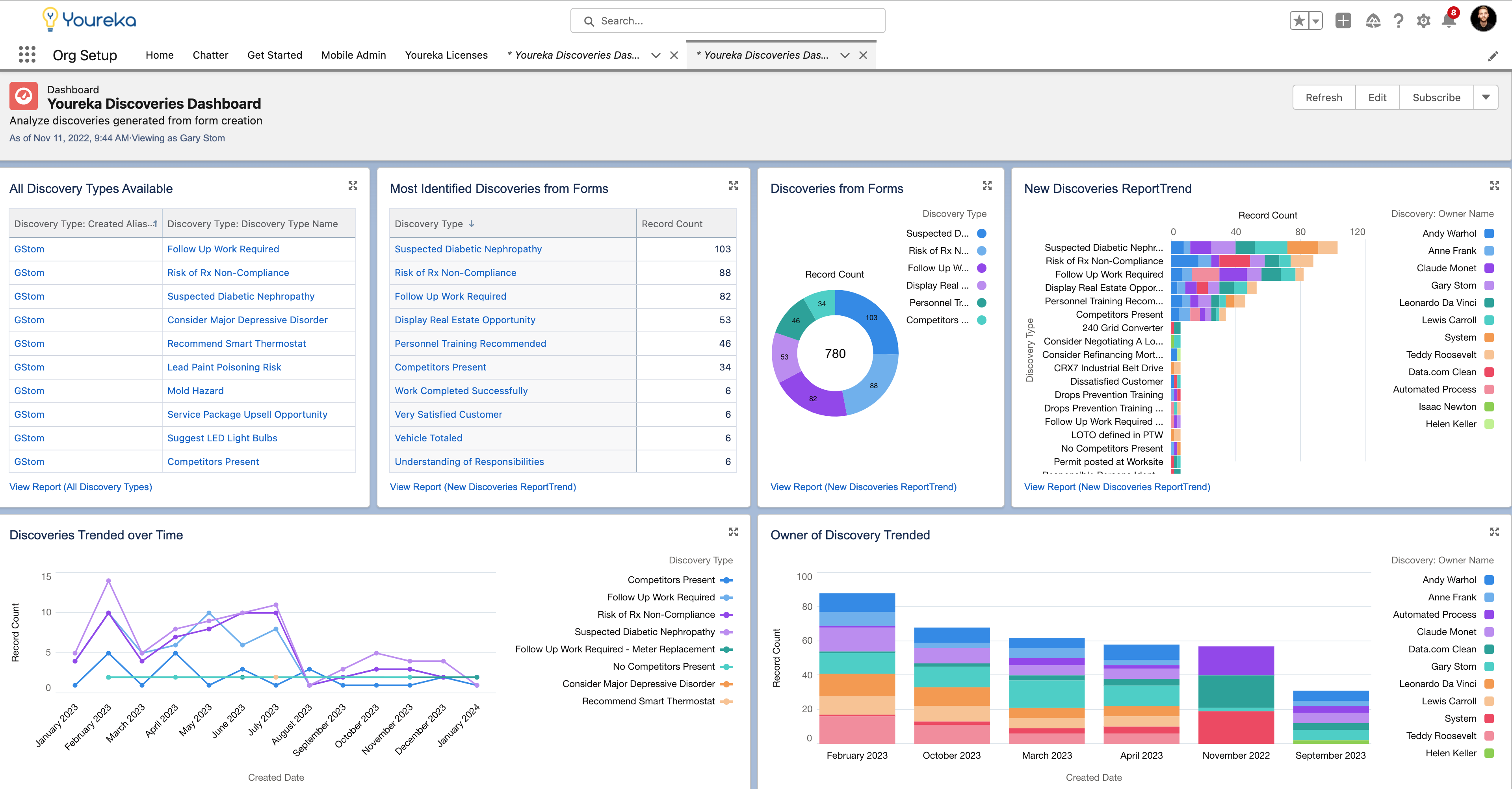 Youreka Forms Dashboard:
This dashboard shows total generated forms, trended generation, status of forms and form owners for completed and incomplete forms. It also has 3 reports at the bottom where you can analyze a specific question. This requires you to place your question in the report filter.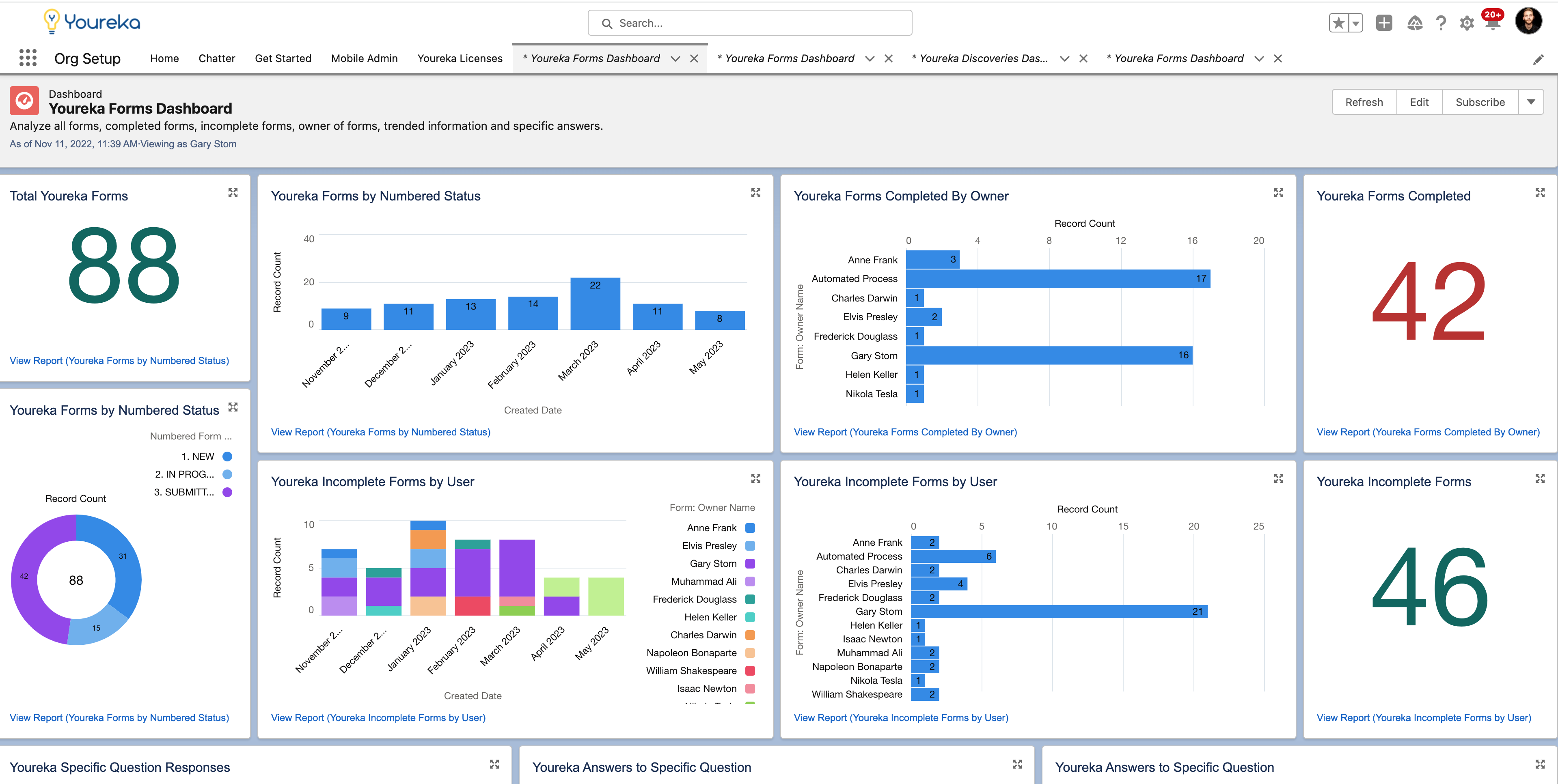 Youreka Form Optimization Dashboard:
This dashboard is very helpful to find any forms that fall through the cracks. When you deactivate a template, if there are any outstanding forms, this dashboard will surface that data. It also shows the most popular templates, skipped questions to optimize and more: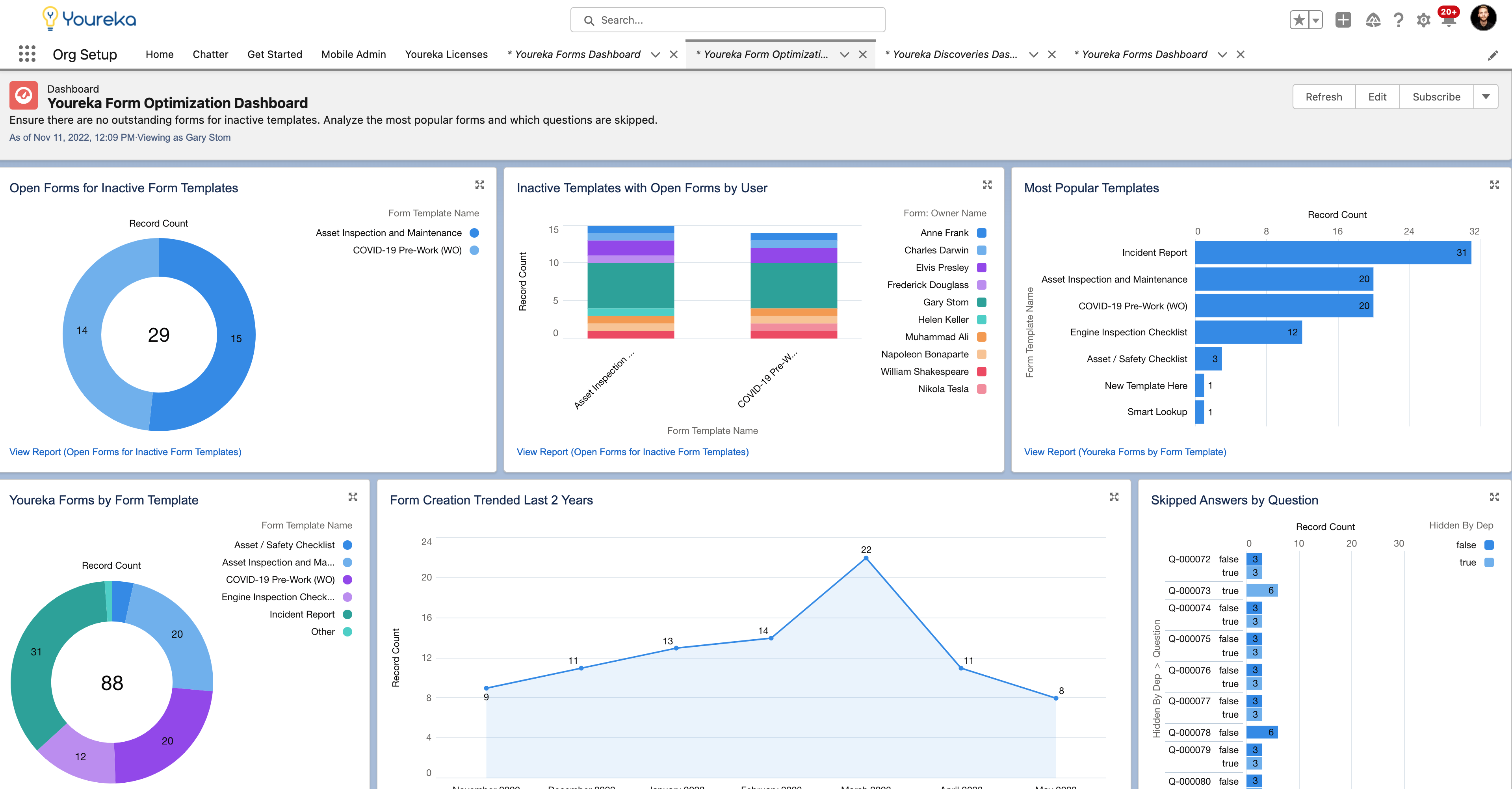 Youreka Mobile Monitor Dashboard:
Here is a one stop shop to monitor all of your mobile Youreka usage. This dashboard shows mobile templates by creator, incomplete forms by user, answers by users, top users and more: