Objective:
This article teaches you how to sync the Youreka mobile app
Before you get started:
These articles might be helpful before you read this one:
The Youreka Mobile App can intelligently sync with Salesforce to ensure that all data captured from the field is synced back to your Salesforce environment. Syncing also ensures that any information in Salesforce is brought down to the Youreka Mobile App so users can interact with it.
There are many moments when the Youreka Mobile App syncs with Salesforce. Some of these happen manually, as the result of a user intentionally triggering a sync. Some of these also happen automatically. Below is a list of the types of syncs that can happen with the Youreka Mobile App.
Save
A save will update Salesforce with information from the form you're currently working on. This includes the Answers to questions, as well as updates to field linked questions. These saves happen in the following situations:
On page changes automatically when you're completing a form, if you've made updates to answers,
When clicking the refresh button on a Salesforce formula field
Partial Sync
A partial sync completes a save, but also retrieves data from Salesforce, if there are updates that affect the user (like new forms). A partial sync can be triggered by clicking Save & Close or Quick Save from the hamburger menu.
Full Sync
A full sync will download everything included in a partial sync, in addition to any data from Salesforce that may impact your mobile app, such as template updates and other object data that you need to complete forms offline. This does not include the data that is part of a Prep for Offline.
Full Syncs can be triggered manually, or automatically.
You can choose to manually sync at any time by:
Clicking the sync icon at the top of the Forms list (see image below, left)
Clicking the sync button in the Data Management screen (see image below, right)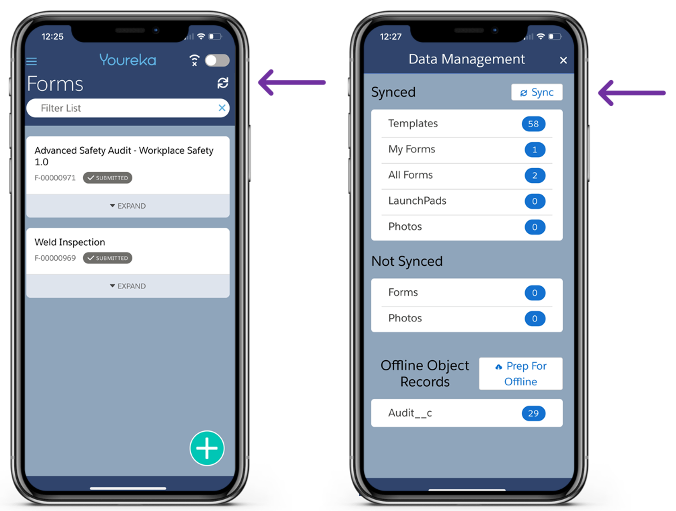 The Youreka Mobile App will automatically sync:
After logging in
Whenever refocusing the app after putting it in the background
After submitting a form
Prep For Offline
When Prepping for Offline, the Youreka Mobile App completes a Full Sync, as well as downloads all the Salesforce object data that your admin has designated in the Offline Data menu.
Sync Times
Syncing the Youreka Mobile app can take a few seconds, or longer depending on the way your system is configured. If the Youreka app is taking a long time to sync, consider the following settings, which can all impact sync time:
Connection Speed - check the mobile device's connection speed. Slower connection speeds cause the sync time to increase.
Mobile Available Form Templates - check the quantity of Published, Mobile Available Form Templates. A large volume of templates can affect sync time.
Mobile Available Forms - check the quantity of mobile available forms that have been assigned to the user or available through mobile form shares. Consider reviewing your Form Template's Form Lifecycle settings to ensure that old forms do not stay on mobile devices long after they are needed.
Form Template Size - For each form template that is available on mobile, the Full Form Size is a variable that can influence sync time. Larger Form Templates take longer to sync.
Mobile Cards - If mobile cards are enabled, check the number of mobile card records which are available to the end user. Consider reviewing your Mobile Card filters to ensure that only the necessary mobile cards are being displayed to end users - no more, and no less.
Offline Data - If Prep for Offline is taking a long time, consider reviewing your Offline Data filters to ensure that only a reasonable amount of offline data is being primed to the device. Consider reviewing the objects you have selected, as well as the filters on each object. If you don't have filters on your objects, consider creating them.
Unsynced Local Data - All local data that has not yet synced with Salesforce should be considered when analyzing sync times. If a high volume of data has been collected while offline, and the user attempts to sync, sync times will increase in proportion to the amount of unsynced local data that exists on the device.
Considerations for Syncing the Youreka Mobile App
Planning to work offline? Be Sure to Prep for Offline at the start of every day.
Spotty or slow data connection? Consider switching to Offline Mode and work offline to eliminate interruptions from slow syncing.
Problems syncing? While syncing, Youreka must remain in the foreground, and the device must remain "awake." Also, high numbers of forms or templates can impact sync performance. Admins should consider making available on mobile only those forms and templates necessary for a user to complete their duties. Part of this can be automated with Form Lifecycle settings.