Objective
After reading this article, you will understand how photos captured with Youreka are stored in Salesforce, and the different ways users can review photos. You will also understand how to tag and comment on photos collected by Youreka.
Before you get started
These articles might be helpful before you read further:
Introduction
Photos captured from the Youreka Mobile Application are saved to Salesforce. These images are stored as Salesforce Files in the system.
There are some common ways users can review photos in Salesforce after they are captured with the mobile application:
Review photos on Form records
Review photos in Salesforce Files related lists
Review photos in the Youreka Photo Gallery
Reviewing Photos on Form Detail
Users interested in reviewing photos can visit the Form Record in Salesforce and observe photos in line with the other questions and answers present on the form. You can click on each image to open a larger preview.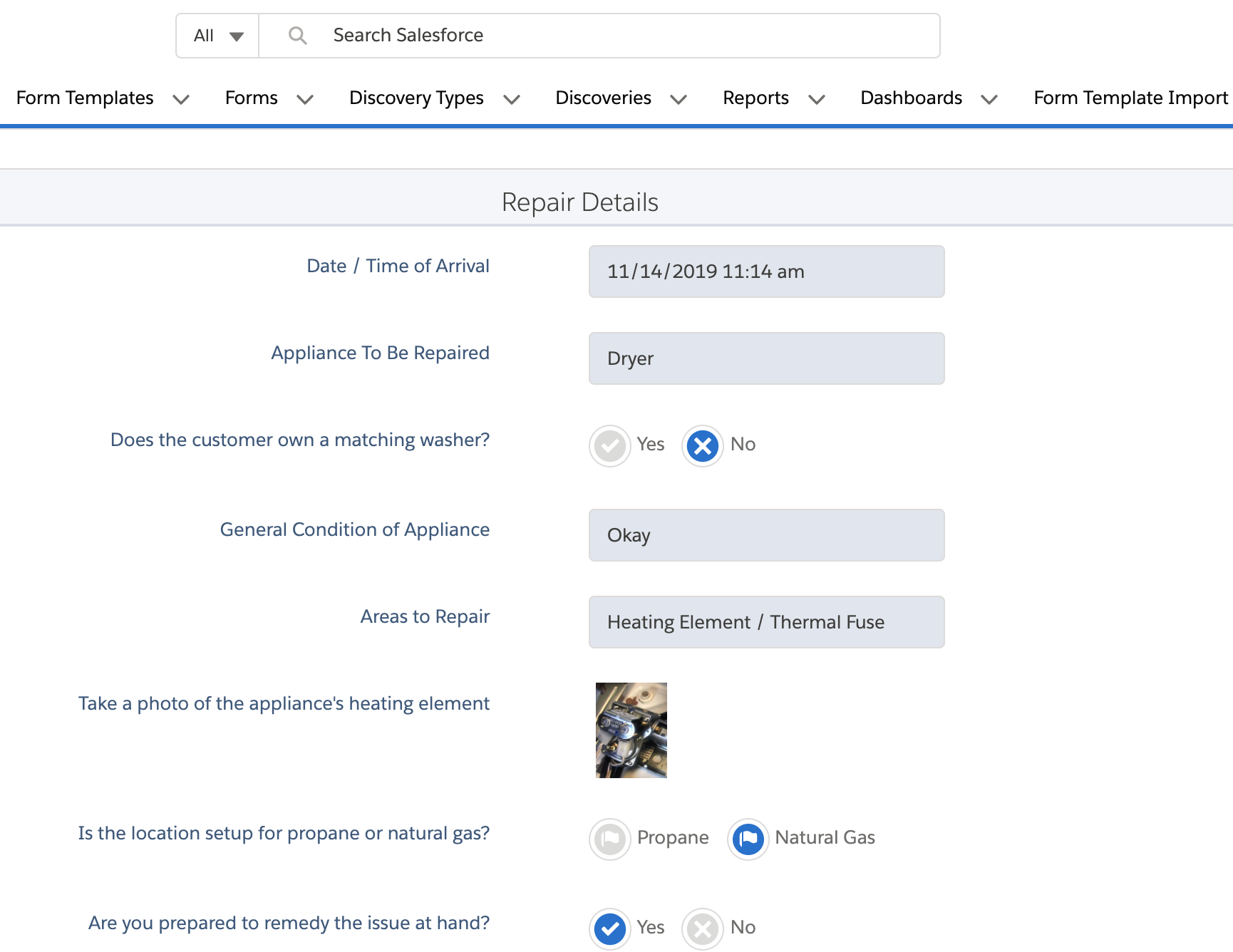 Reviewing Photos as Salesforce Files
Because photos uploaded from the Youreka Mobile App are inserted as Salesforce Files (ContentDocument), photos can be reviewed under the Files tab in Salesforce.
By default, Youreka inserts each image as a separate Salesforce File, linked to both Answer and Form records.
Photos can be downloaded, shared, followed, or distributed via public link from the Salesforce File page.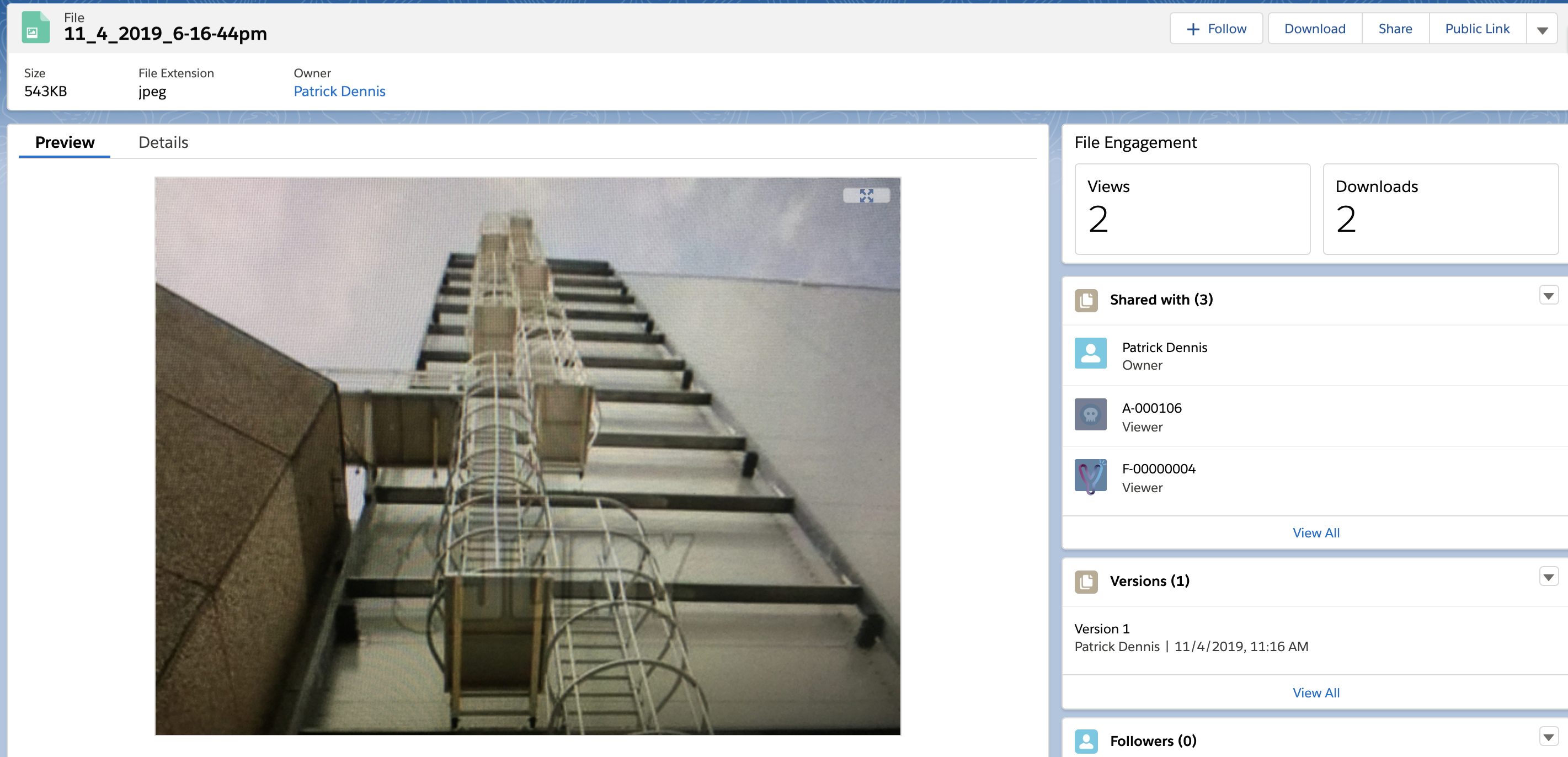 Reviewing Photos in the Youreka Photo Gallery
Photos captured on the Youreka Mobile App are also made available to review in Youreka's Photo Gallery Tab in Salesforce. This tab is available by default with the Youreka Lightning App. It can also be accessed from the App Launcher or added as a navigation item to other custom Lightning Apps.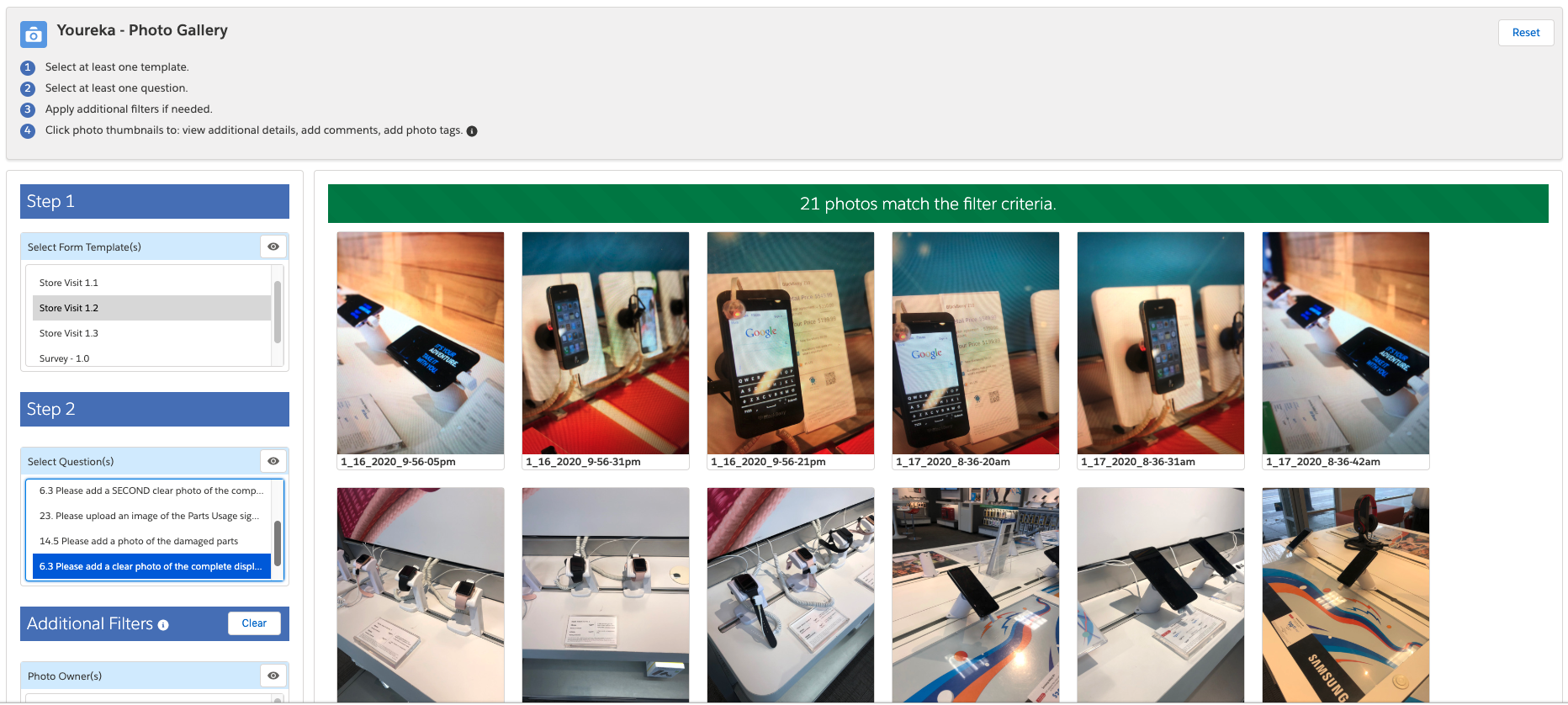 From the Photo Gallery, users can use filters to view many groups of photos at once. First select one or many form templates, then select one or many questions. Additionally, users have the option to use more filters below. Filters can be configured to meet user requirements by updating the Photo Gallery Filters field set on the Form Object.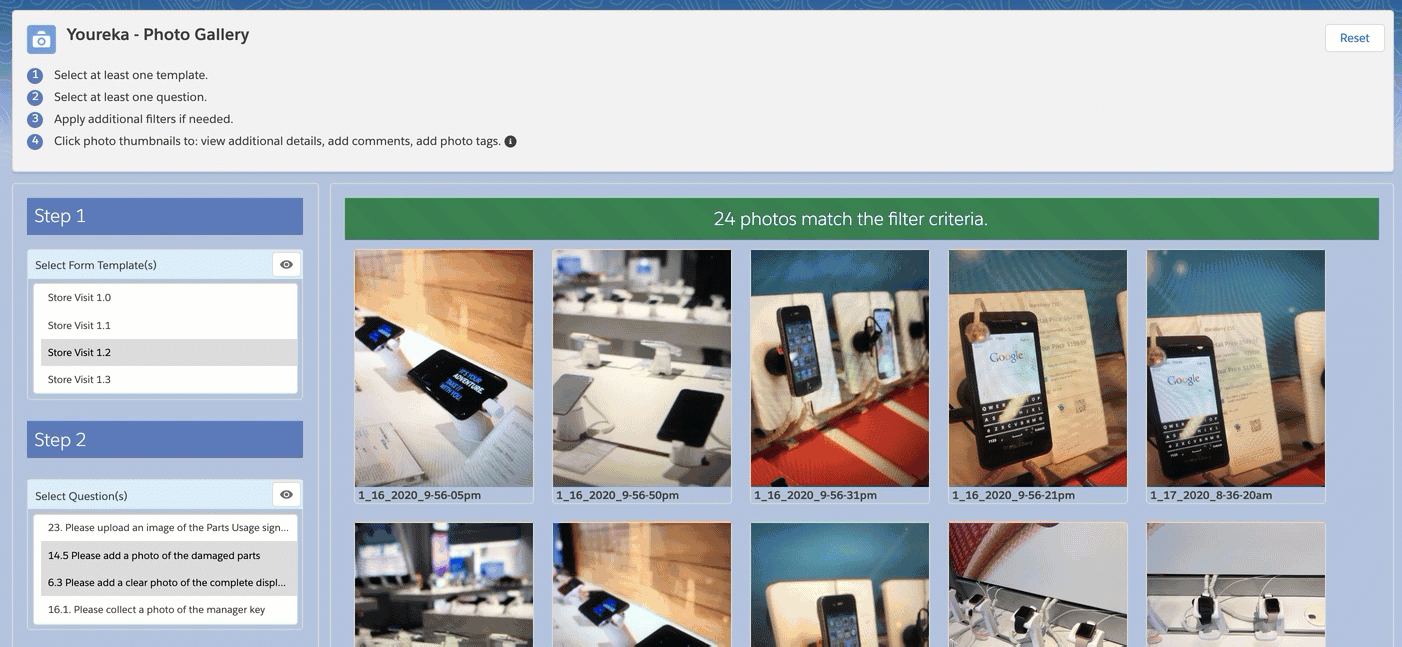 From within the Photo Gallery, users can tag and comment on photos as they review them. Please note that users can only tag and comment on photos that they have permission to edit.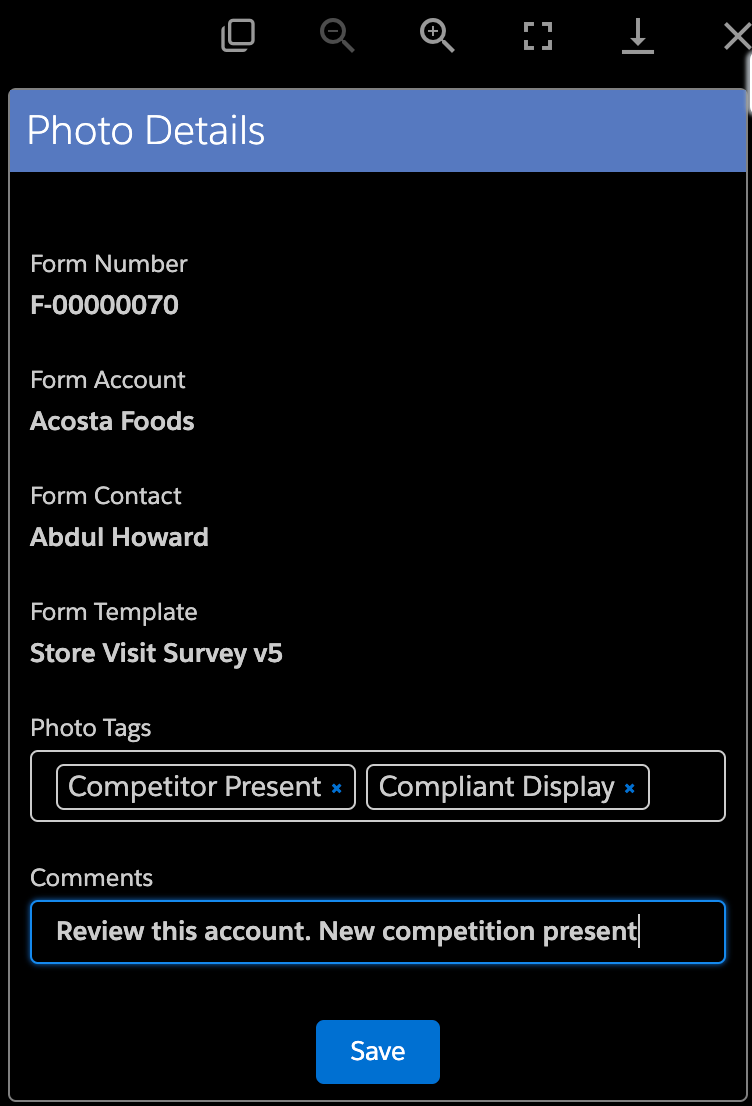 Before being able to use tags, you must create the tag types you intend to use. This can be done by configuring the Photo Tag Custom Metadata Type in Setup.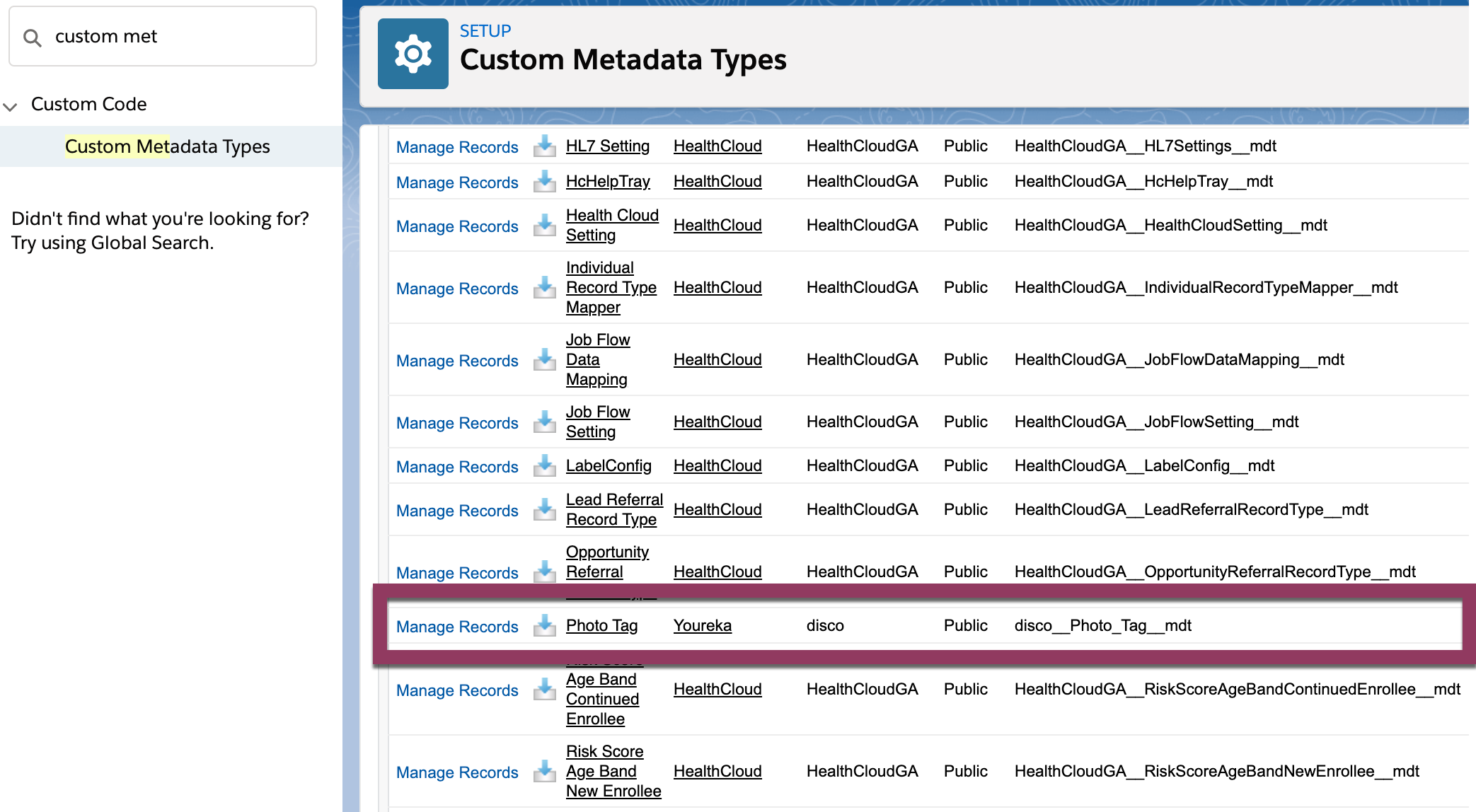 For each tag you wish to apply to your photos, select New and fill out the form with the name and label of the photo tag. Make sure you make each tag active. When you're done, you'll see a list of all the tags you'll be able to apply to your photos in the gallery.