Objective
This article teaches you how Youreka Mobile appears to users when they are offline
Before you get started
This article might be helpful before you read further:
Youreka works offline so that users can edit forms and collect data without worrying about device connectivity. Here are a couple of different features offered on Youreka Mobile that support offline functionality.
How to Go Offline
There are three ways that the Youreka Mobile App can lose connectivity.
The device leaves connectivity from Wifi or cellular signal.
Airplane Mode is enabled on the device
Youreka's "Offline Mode" feature is enabled on the Youreka Mobile App
In all three of these situations, the Youreka Mobile App will work in an offline state.
Priming Offline Data
Before going offline, it's important that mobile users visit the Data Management Menu in the mobile app, and select Prep for Offline, which will download all of the object records to the device, objects which have been defined by the Youreka Administrator in the Offline Data tab. This needs to be done each time the user logs into the device. By doing this, the user is able to reference existing records in Salesforce while in an offline state.
Creating Forms While Offline
When in an offline state, users can pick a form from the Forms Menu. They can also create a new form by tapping the green plus sign in the bottom right corner of the screen. After creating a new form, you can populate form lookups and then complete the form, all while offline.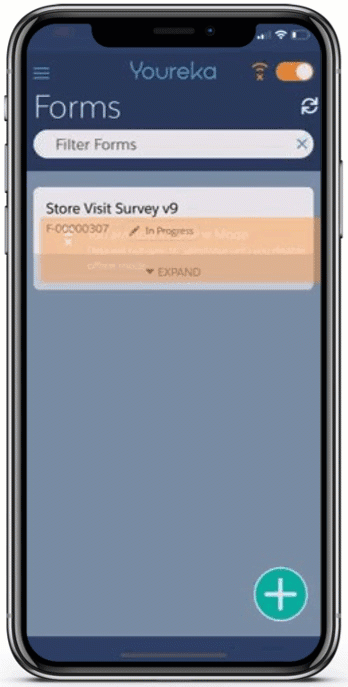 Returning Back Online
While a device is offline, Youreka will display orange alerts on the mobile app to show a user which forms have yet to sync with Salesforce. When users return back to connectivity, Youreka will sync with Salesforce, update fields, trigger Salesforce automation, update reports and dashboards, and more.