You can understand the details of your Youreka subscription by visiting the Youreka Licenses tab in Salesforce. This tab shows you how many Youreka licenses your organization has, as well as the date that your premium features expire.
Premium Expiration Warning
When your Youreka Premium subscription is within 30 days of expiring, a warning will appear at the top of pages across the app. This includes the Template Builder, Form Detail and Complete Form pages. Renewing the subscription will remove the banner.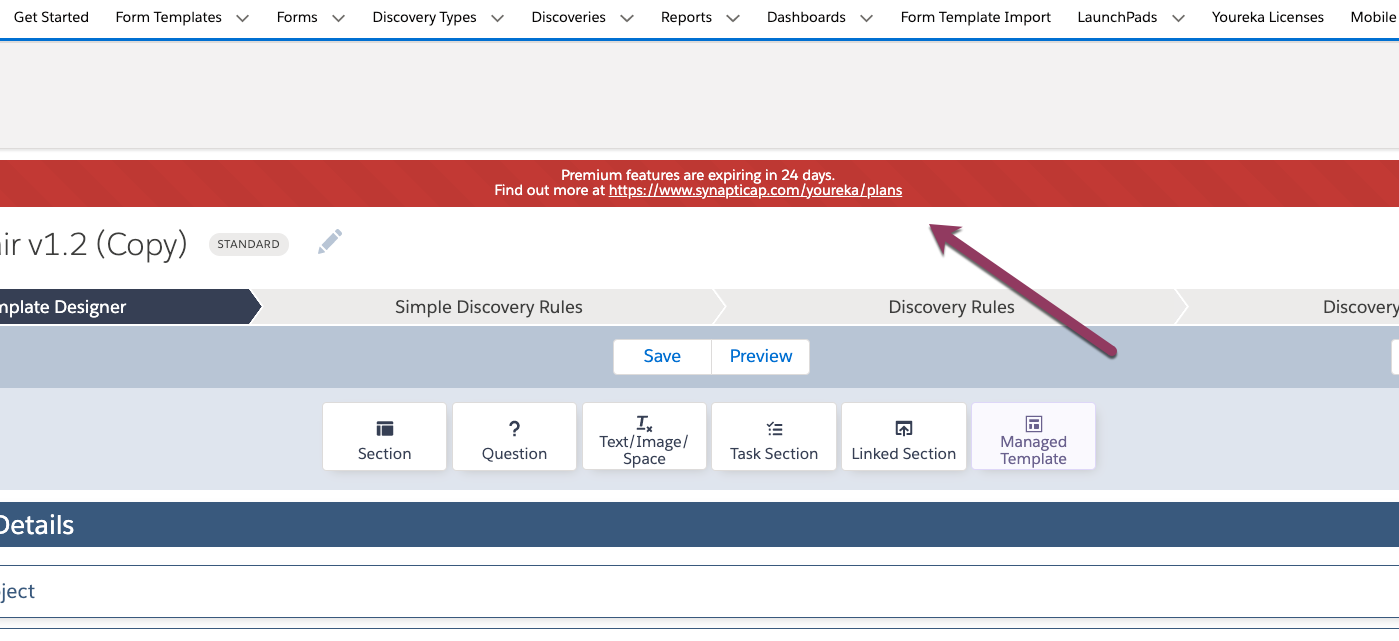 Considerations For Premium Expiration
If your organization chooses to not renew your Youreka subscription, or you allow your Premium subscription to expire, there are several things that you should consider:
What Happens To Your Data?
For as long as Youreka remains installed in the Salesforce environment, Youreka-related data will remain in the Salesforce environment beyond premium expiration. Users with access to this data will continue to be able to report on it, export it, etc. in perpetuity.
Beyond premium expiration, you do not have to uninstall Youreka. If you choose to uninstall Youreka, all of Youreka's metadata will be removed from the Salesforce environment.
Access To Youreka's Features
Users will no longer be able to use the Template Builder to create Form Templates
Users will no longer be able to view FormDetail or CompleteForm Visualforce pages. In other words, users will not be able to view forms, or complete forms in the Salesforce desktop experience
Users will no longer be able to use the Youreka Lightning Components
Users will no longer be able to use the Youreka mobile application to view or complete forms
Form Templates are automatically switched to Inactive, meaning that the organization can no longer create Form records for these templates
Users will continue to be able to view the Template Stats feature, as well as export Youreka data to CSV