Objective
After reading this article, you will understand how to set up rules in forms that validate data that is entered by users completing the forms.
Before you get started
These articles might be helpful before you read further:
In-Form Data Validation
Use in-form data validation to ensure that users are entering accurate information into forms.
You can set up data validation from within the question editor. See the screenshot below, and the corresponding explanations below the image.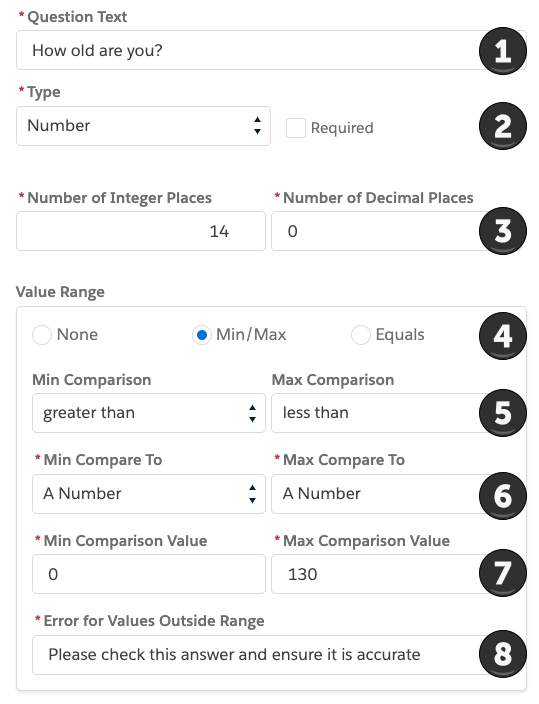 Question Text - This is the question label which will be seen by users as they fill out a form.
Question Type - This is the type of question. Data validation can be applied to questions of the following types: Currency, Date, Date/Time, Field Link, Number, and Percent.
Integers/Decimals - This setting allows you to define how many integer and decimal places this question will allow.
Value Range - This defines the logic behind the data validation. By selecting None, the form will not validate the information entered for this question. Min/Max allows you to set a range, and Equals allows you to define a specific value that the answer for this question should match.
Min/Max Comparison - These settings allow you to define how the comparison will take place. Use logic operators such as greater than, less than or equal to.
Compare To - These settings define which values will be used in the comparison. You can either hardcode a fixed value, or compare with values from other questions in the form.
Comparison Value/Question - These settings allow you to define which value / question will be used in the comparison. If you choose to used a fixed value (see 6), this setting allows you to define that value. If you choose to use a different question in the form, this setting allows you to pick which question will be used for the comparison.
Error Message - This setting allows you to customize the message that users will see if their answer does not comply with the validation rules defined for this question.
Salesforce Validation Rules
Salesforce validation rules are applied when users submit Youreka forms. If you do not set up data validation in the Template Builder, but you have a validation rule that exists on a field linked Salesforce object, a user who has entered an invalid value would still see the error message associated with that validation rule on the form when they try to submit.