Objective:
After reading this article, you will understand how to install and set up Youreka in your Salesforce Demo Org.
Before you get started:
These articles might be helpful before you read further:
If you're reading this article, it's because you either work for Salesforce, or a Salesforce Implementation Partner, and you're interested in setting up Youreka in a demo/test org. This is most likely due to the fact that you are in need of Salesforce-Native mobile forms for your customer! We're here to help you be successful in building things out!
Follow the steps below to install and configure Youreka for your next demo.
Step 1: Installing Youreka
Youreka comes pre-installed in certain Salesforce demo orgs, so first check to make sure that Youreka isn't already installed in your environment. If Youreka already exists in your Salesforce environment, proceed to Step 2. If it's not, visit the AppExchange and click Get It Now to install Youreka into your environment.
When you install, you are given a 30-day free trial of all premium features that Youreka offers. Typically this is enough time between when you start building and when you are meeting with your customer, but in the event you need more time, don't hesitate to reach out and we can figure something out for you.
If you are planning on demoing Youreka's Mobile App (most people do), install it from the iOS or Google Play stores on your mobile device.
The following knowledge base articles / videos walk you through how to do this.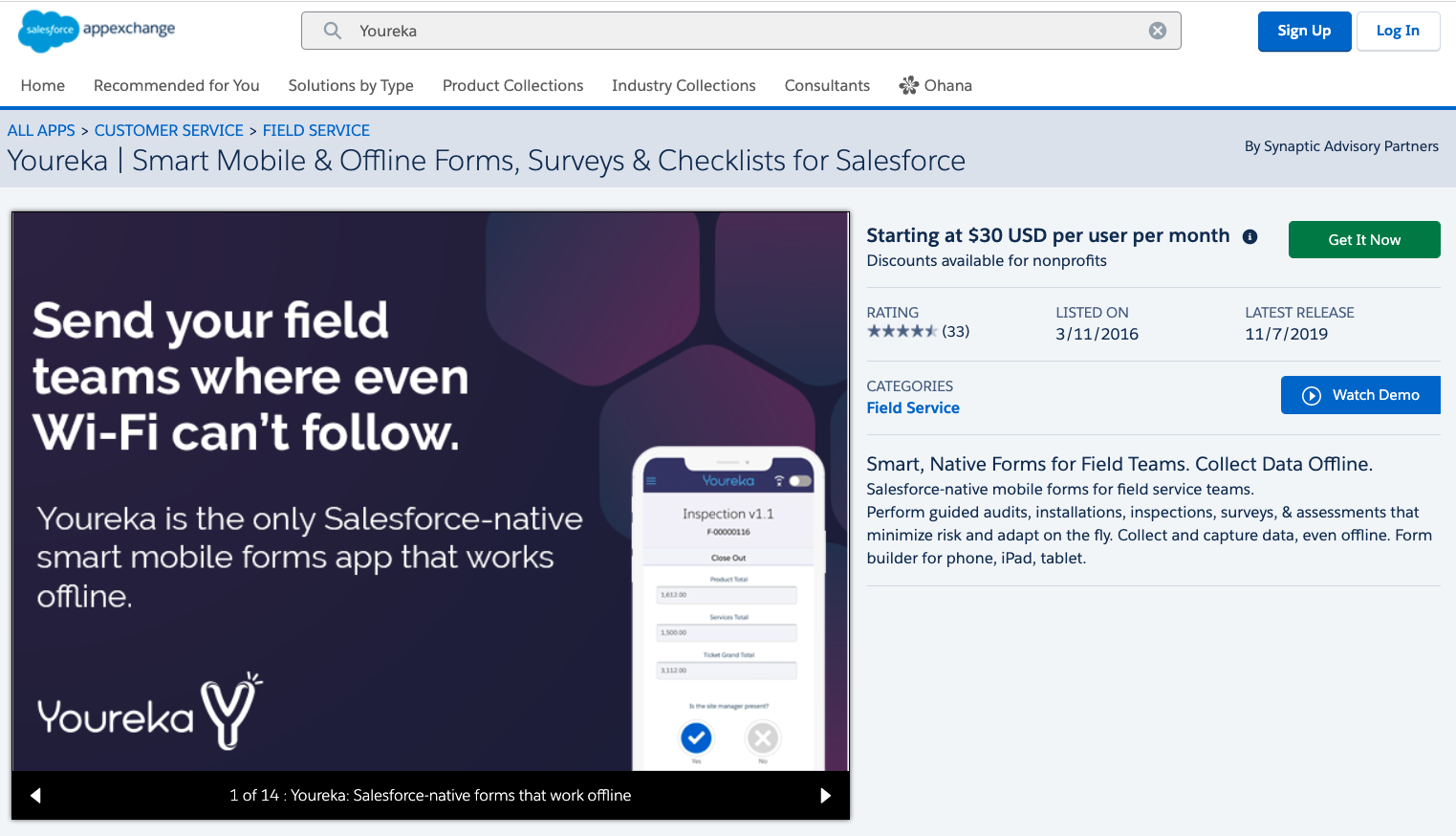 Step 2: Get Familiar With the Form Template Builder
After Youreka is installed, visit the Youreka Lightning App by using the App Launcher. Click on the Form Templates tab, and create a new Form Template record. This will bring you to the Form Template Builder, which is our drag and drop interface for building forms.
Here are some really important resources to help you with this step:
Step 3: Consider Your Use Case / Object Model
Youreka's forms are commonly used across many Salesforce products, and can work with just about any object in your environment. For example, if you have a Sales Cloud use case, and you need Youreka's forms to map to Opportunities, we've got you covered. If you have a Field Service Lightning use case, and you need Youreka's forms to map to Work Orders, Service Appointments and Work Order Line Items (and work alongside the Field Service Mobile app), we've got you covered.
Here are some important resources to get you thinking:
Step 4: Think About Reporting
All of the data collected with Youreka is stored natively in Salesforce. This is powerful because it means you can use Salesforce reports and dashboards to visualize the responses from forms. Youreka comes with some reports immediately after you install from the AppExchange, but in the event you need more reportability, here are some resources to get you thinking:
Step 5: Keep Us In The Loop!
We absolutely encourage you to build out Youreka to your heart's content. With that said, don't hesitate to reach out to our team! We can offer advice, provide assistance with discovery sessions (trust us, we know forms!), assist in building demos and help you in any way we can.
Here are some ways you can reach out: