Objective
After reading this article, you will understand how to configure Pulsar to work with Youreka in order to be able to complete forms while offline on a Windows device.
Before you get started
This article might be helpful before you read further:
Pulsar for Salesforce allows customers to leverage Youreka from a Windows device. It is a paid third party app available for purchase from Luminix and is not included in your purchase of Youreka Licenses.
Youreka will only work on supported Pulsar Windows devices. For iOS and Android devices, please continue to use the Youreka Mobile App.
How it works
Users will be able to download pre-created Youreka Forms to the Pulsar app and do all their work right within each Form.
All Forms need to be created within Salesforce for each User. When beginning work, ensure the user is online and syncs all data from Salesforce to Pulsar in advance.
In the Pulsar Mobile app go to the Forms icon.
On the Forms List View find the Form to be completed and open it.
On the bottom-right corner click the Clipboard Icon to complete the form.
The Youreka app will launch within Pulsar and allow for completion of the form.
When in a Form with an Attachment/Photo question, click Upload Files. This will open the Windows File Explorer, where you can select the Camera to take an image and upload it to the Form, or upload an existing image to the Form.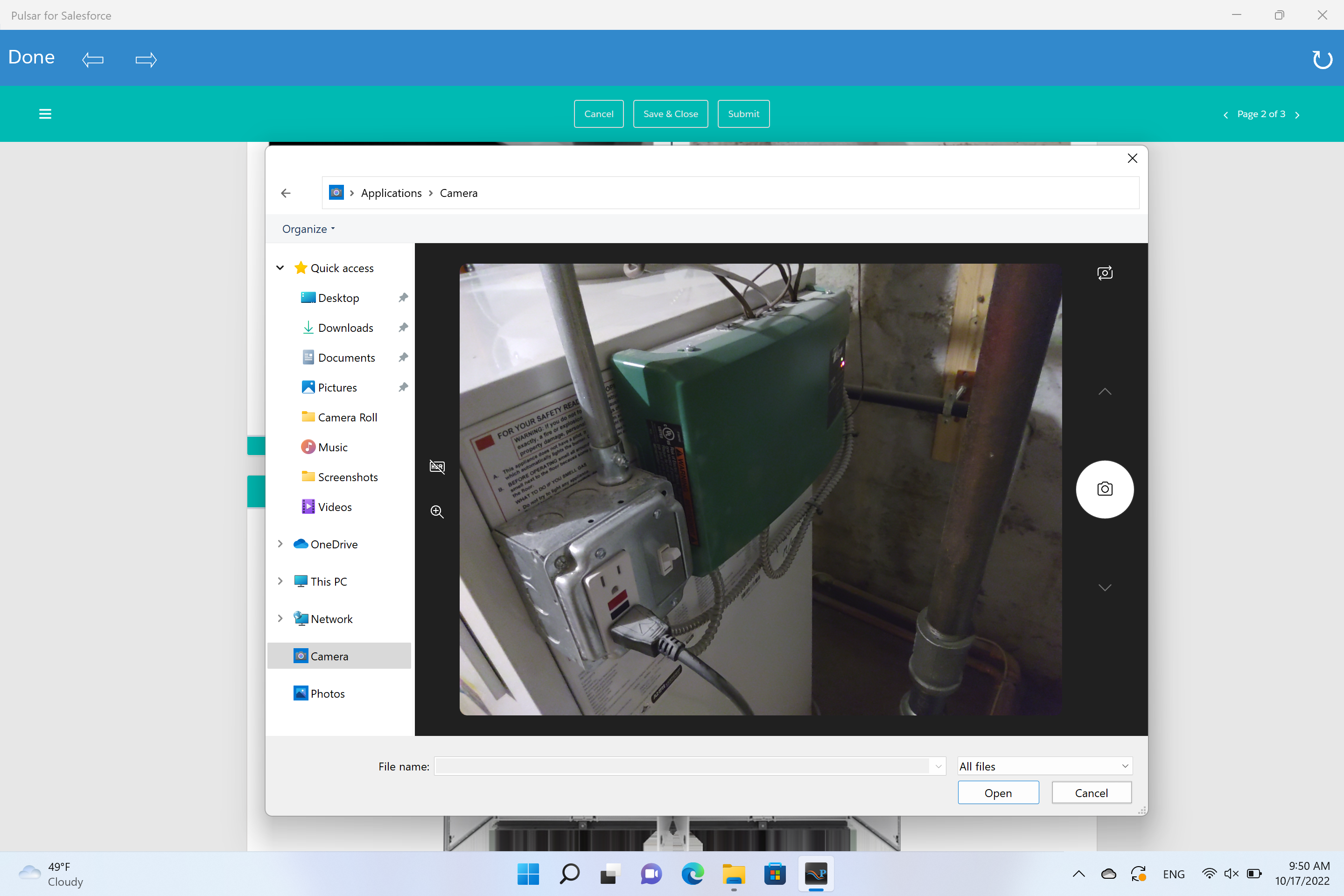 Setup
Pulsar Installation and Setup
Install the Pulsar App in your Org from the Appexchange. Instructions for installation can be found in the Luminix Installation Guide.
Assign Pulsar Licenses to the relevant users.
Install the Pulsar App on the Windows Device.
Enabling Youreka Within Pulsar
Download the Youreka Forms.pulsarapp.zip file that has been provided. Remove the ".zip" ending from the file.
Upload Youreka Pulsar app:


In your Salesforce Org go to the Files Tab.

Go to the Libraries sub-tab.

Click New Library. Name the new library Youreka Pulsar App.

Click Save.

Click on the Youreka Pulsar App Library link.

Click Add Files and then click Upload Files. Select the Youreka Forms.pulsarapp file from the location it was downloaded to and click Open.

Click Done.

Click Manage Members. Add any users that will be using the app as Library Administrators or define their access with at least Read access.


Get the Record ID of the Youreka Pulsar App just uploaded:


Click the arrow on the file just uploaded and select View File Details


Copy and save the Record ID from the URL, this will be needed in step 5:


Go to the Pulsar Settings Manager App in your Salesforce Org. Click the PulsarSetting Tab.
Click New and create the following PulsarSettings records to use Youreka, clicking Save & New after adding each one:


Pulsar Setting Name
Key
Value
Global Shared Web Resources

pulsar.docs.enableHTMLResources

TRUE

Hide the Standard Edit button on the Form object

pulsar.layout.hideEditButton

disco__Form__c:Default

Show tabs on Form Detail Screen

pulsar.layout.disco__Form__c.doclist

Insert Record Id from Step 3b
Sync Objects

pulsar.sync.objects

Account
Case
Contact
CurrencyType
Document
Event
Lead
RecordType
Task
TaskStatus
User
disco__Form__c
disco__Question__c
disco__Question_Value__c
disco__Answer__c
disco__Form_Template__c
disco__Section__c
ContentDocument
ContentDocumentLink
ContentVersion
LuminixPulsar__PulsarSetting__c

Allow Base 64 Data of Document Object

pulsar.sync.base64download.enabledObjects

Document

Attachment Image Quality

pulsar.attachment.ImageQuality

100

Attachment Max Side Pixels

pulsar.attachment.maxSidePixels

1024

Attachment Thumbnail Max Side Pixels

pulsar.attachment.thumbnailMaxSidePixels

50

Optional
HomePage Hide Unsynced Object Tabs

pulsar.home.hideUnsyncedTabs

TRUE

Show custom button in Form Detail Screen

pulsar.layout.disco__Form__c.doclist.icon

Upload a custom icon as
a File & Attachment to this setting

Ensure that all Objects related to Forms and any additional objects needed in Pulsar are added to the Sync Objects setting and are synced to the device before beginning work.
Create any additional needed Pulsar Settings for your needs. Please see these articles for reference.

Ensure users have the correct Pulsar permissions.
Limitations
Mobile Cards are not available.
No access to barcode scanner.
Field Sets in Lookups are not supported within Pulsar, only the record name is available.
Salesforce formulas are not supported in field links.